Amazon is a marketplace that welcomes millions of sellers to list and sell their products. There are so many sellers, getting your products noticed and selling more and more with various difficulties. Using the right images and ad copy can be an effective way of getting your products noticed and increase sales. Here we take a look at the Amazon image guidance you need to know about. There are more than 2.4 million active Amazon Seller Central accounts, which mean that competition is fierce on the world's largest online marketplace. Many sellers will go unpublished by Amazon for violating its guidelines.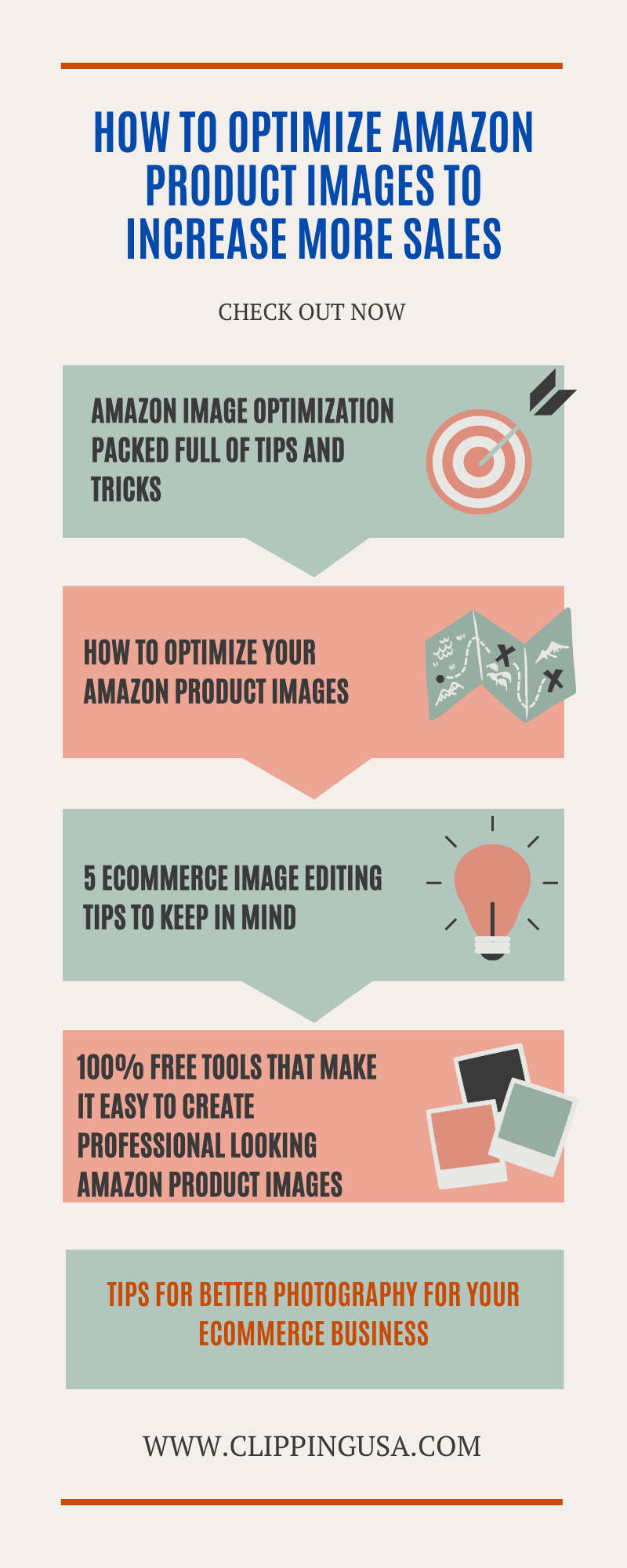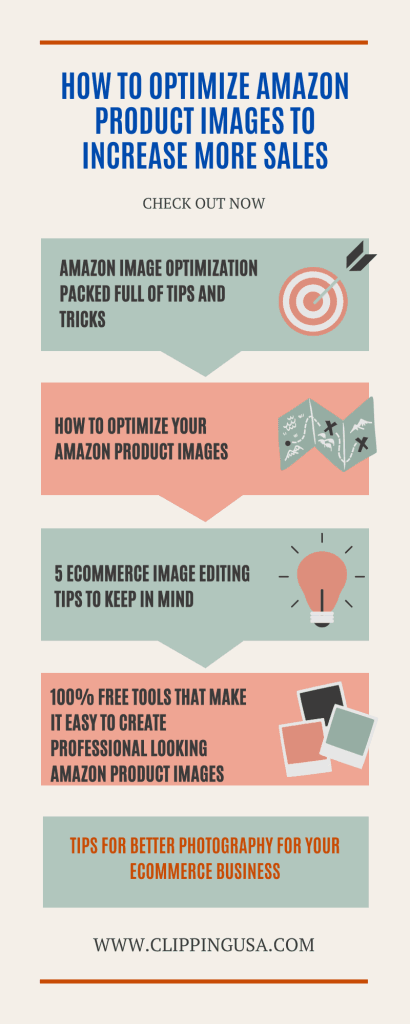 Amazon Image Optimization Packed full of Tips and Tricks that other Amazon sellers should know about the Amazon Image Optimization
Amazon is a place of over 500 million products, so it's unlikely your product is unique. Your product listing will need to stand out among the rest. Here are eight ways you can optimize your Amazon listing including tips on using the best keywords, creating eye-catching images, and having the right title and description. If you're interested in boosting sales through Amazon listing optimization, then discover eight ways to optimize your Amazon product listings in this guide for sellers.
How to optimize your Amazon Product Images: A blog about how to optimize your Amazon product image
As the world becomes more digital, so do the products. Consumers are more likely to purchase products online instead of shopping in physical stores. Most of them turn to search engines, especially Amazon to find the products they are looking for. The online marketplace has become a hub for online shoppers looking to purchase products. If you are a seller, you should optimize your product images to draw more customers. How sellers can optimize their Amazon product images to improve their organic ranking and where their product will display in the SERP. We all know how important images are when it comes to marketing. Visual content now accounts for the lion's share of all web traffic. In the e-commerce world, visuals are even more critical as they make or break a sale. In this blog, we'll focus on how to optimize your images to help them rank better on Amazon.
5 Ecommerce Image Editing Tips to Keep in Mind: A post about the 5 things you need to consider when editing your images for your ecommerce business
Your product photographs say a lot about your brand and while your customers may not be able to tell right off the bat if your products are of poor quality or not, their visual senses can and will know. The wrong type of lighting, the wrong angle, the wrong effect, and your products will look cheap and inferior. This is why you should know how to edit your photos correctly.
Check your lighting
I don't know about you, but I wouldn't buy a pair of jeans that look like a wet piece of paper. It's a bad way to start your day. I always check the lighting of a photograph and add filters to it. Lighting is an important factor in making your photos look good and stand out on the web. So, we will talk more about that later. Get the right angles an excellent angle is in the center of the image, and the most important thing is to maintain a neutral perspective. It's one thing to have great angles, and another thing to have good symmetry. Avoid those shots where you are tilted to the side or upside down. It's better to just remain completely neutral. Using the right effect having the wrong effect or editing the wrong part of the image can bring your image down a notch.
Our other content check this : Amazon Image Requirements
Consider the angles
Any professional photographer knows that they must pay attention to the angles of the angles and the details that they include in their photographs. You must also pay attention to these details if you want to ensure that your products look good and that your brand is appealing. A blogger, Kevin Allocca, recommends that it takes him 30 minutes for a brand new image that he edits on his website to look "fresh." How you deal with a light on a product depends on how the item is displayed and photographed. If it is a product that is displayed on a front end of a store, you will need to take into consideration how the product is positioned concerning the store windows, which in turn requires a different approach.
Use editing tools for an artistic touch
By using an editing tool you will be able to achieve professional results. These editing tools are designed with the sole purpose of getting the best results out of your images. They are equipped with powerful options that have been tailored to get a perfect shot every time. The basic filters are here but these can be expanded to a higher level. As you can see, you can use your editing tools to create a vintage effect or even simulate the texture of an object, the colors, and the way they shine. You can use different filters and then blend them or combine them with other filters. Below you can see an example of how I used Photoshop to create the effect of the texture and the look of a bowl of freshly squeezed lemonade.
Make sure that you have a color palette that matches
When you start a brand new e-commerce business, you get your Photoshop software program ready and the first thing you start editing photos is your photos. With a little tweaking, you can create a more professional and visually appealing photo for your e-commerce store. Branding yourself and your store is about more than what you can sell, it's also about what you can sell and the image that your brand presents. If your brand is looking bland and ordinary, you'll lose potential customers and traffic. Don't skimp on the color. If your products are too light and bright, they look cheap and you may be losing sales to companies who have a clearer brand and better marketing.
Keep in mind that quality will always matter more than quantity
We often get tricked into believing that with more product photos, our product photos will look better. But the fact is that having the most photos means that you have to spend more time taking them and editing them. The cheapest photos, in other words, may also be the most effective photos. Furthermore, you may also be tempted to cheap out and photograph all the products using the same background. What you need to realize is that the background you choose is just as important as the lighting in your image. Avoid bland backgrounds – blues, greys, and browns will do fine. Do not use very bright or harsh colors – it is generally a good idea to avoid direct lights on the face.
100% Free Tools that Make it Easy to Create Professional Looking Amazon Product Images This post on the best ways to create professional-looking product images for your Amazon store
If you're selling on Amazon and you're worried about getting your product photography right then there is a great solution that doesn't need to cost the earth. The one method doesn't even cost a fistful of dollars. It's a time-saver, a money saver, and a product saver. It's a way to make sure your product image is great and online as fast as possible. Have you ever tried to do your product photography? More to the point, have you ever been in a position where you want to launch a product or update a product image, and you can't get a professional photographer quick enough or don't have the budget?
Tips For Better Photography For Your Ecommerce Business: A post about how to photograph well for your e-commerce business
If you are just starting on your e-commerce journey, you are probably wondering how to differentiate your brand from others. High-quality product photography is an effective way to do so while also building trust with your customers.
Having the best Amazon product images is a huge component of Amazon's product success. Being a top seller can be a huge financial success. Product images are a vital part of your success. Check our service for all solutions, thanks for reading.