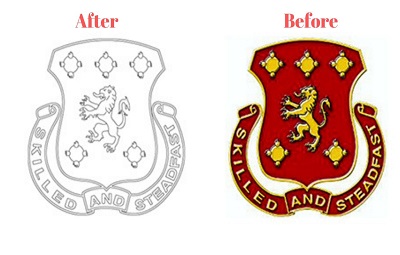 Clipping USA provides flawless and accurate Raster to Vector Conversion. Raster images are the series of pixels or digital dots arranged in certain and to gather it appears to be a whole picture. An image can be saved in many different file format but it's most important characteristic is its resolution. Or in other words, the density and existences of number of dots in an inch of space more commonly named as dot or pixels per inch. By maximizing the number of pixels per inch we get much more detail and distinct picture which can be address as higher resolution and thus higher the resolution better the quality of a picture. Resolution is highly important when it is need to magnify or to enlarging the image. And if the image is smaller by default and has low resolution then the enlargement will only lead to deterioration which can't be fit for the professional presentation.
Nonetheless, as it is a common problem in digital world, there is a solution too. It is commonly known as Raster to Vector Conversion. Which allows the image to be transform into a context that is flexible based on need of size (larger or smaller) and without losing its resolution or quality. What make the difference is, raster images are the series of dots or pixels gathered in one point but vector file format is more like a series of instructions. This is because vector based file formats are more like mathematical instruction and not stored as an image, giving the advantages to easily restructure at whatever size is necessary without any deterioration in quality. Even the file size is smaller which make it perfect for using on the website.
At "Clipping USA" we have our highly skilled digital artists who are well trained and specialized to use Adobe's potent Illustrator program to convert the image from raster to vector. Through some expert hands and state of the art technology we can come to a confirm conclusion that the converted vector image do contain the same natural detail as in the original raster one. Some automated programs that are probably capable to do this conversion can never maintain the quality that is demanded for the professional or commercial digital display. Our digital artists can provide the level of smooth detail that will surpass the most over delicate inspection and leave our clients highly satisfied with their expected end results which can even over do the original.
When comes to store or to save a file, vector file format is much flexible, it can be saved as DXF and SVG to CDR and AI etc. We can provide in any format that is required for our client and serves their purpose best. We're quite confident on our competitive service rate for conversion of raster to vector in overseas market and our large group of digital artists are always stand by to give their prompt and expert service in any time zone 24/7.