Almost all of us are connected with images somehow. Images have spread to a wide range of areas. There are different types of use of images. In different sectors different size of images are needed. In this post, we will discuss about Standard Photo Sizes.
As a photographer, graphics designer, online seller, Social Media user all of us need to have a proper idea about different image sizes. For your convenience I have find out most common aspect ratio and standard size of photographs.
After reading this post you don't need to be concerned about images anymore.
Let's jump to the main discussion directly.
Firstly, you have to understand what Aspect ratio of the image is. It is the proportional measurement between the width and the height. Typically it is displayed by an X: Y.
Some people consider aspect ratio as the actual measurement of the picture size. But they are totally wrong. It doesn't indicate the actual size of the image rather than it shows what the shape of the image is. In example, if size of an image is 2×4 Centimeter then its aspect ratio is 1:2. We don't have to mention unit to explain aspect ratio because it is not connected with the units. It doesn't matter in which units you are calculating the aspect ratio it is constant.
OUR BEST PHOTO EDITING SERVICES:
Background removal service
Photoshop masking service
Photo retouching service
Natural shadow service
Photo restoration service
Color correction service
Neck joint service
Vector conversion service
Clipping path service
An interesting fact about aspect ratio is it its flexibility. Image of the same aspect ratio will provide different types of view when you are presenting them on mobile and computer. From this perspective we can say that aspect ratio is not fully constants.
The reason between explaining this topic deeply is its importance. Especially, when you are going to use image as web content proper aspect ratio should be maintained strictly.
Without maintaining the proper aspect ratio it is hardly possible to present an image properly without losing any resolution.
I guess at this stage you have understood Aspect Ratio pretty nicely.
Now, allow me to inform you some popular and essential aspect ratio those are used rapidly.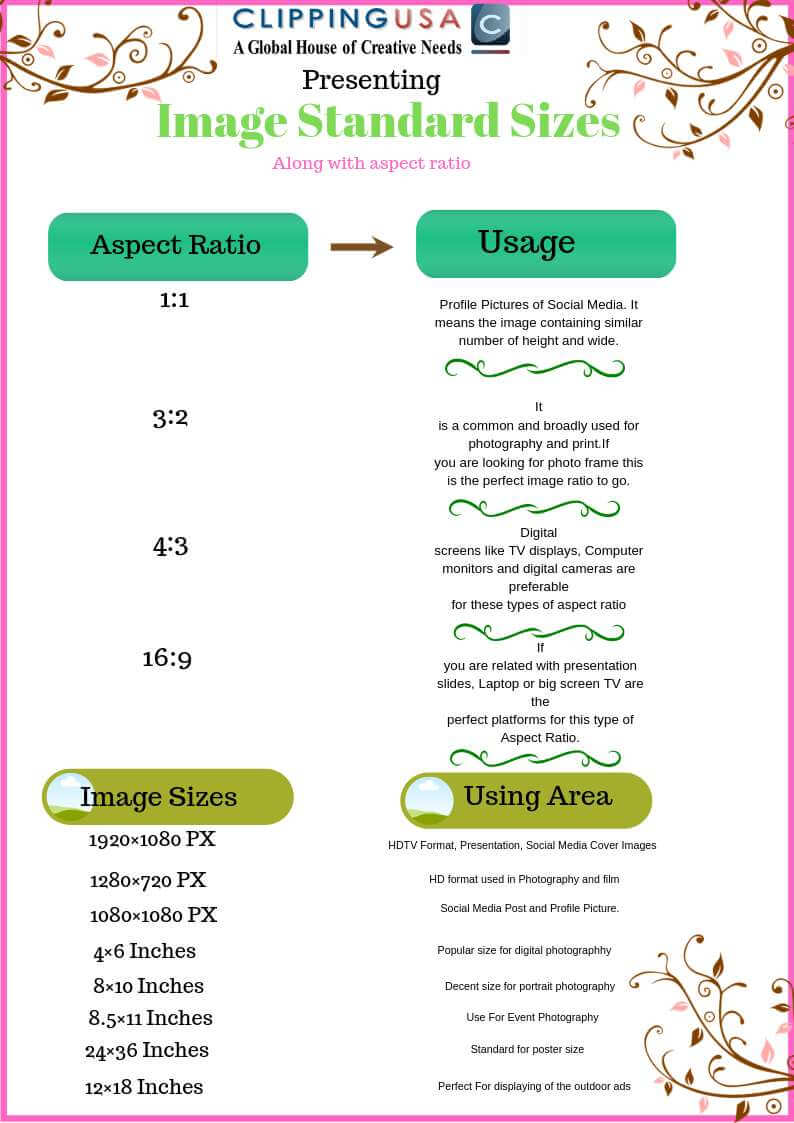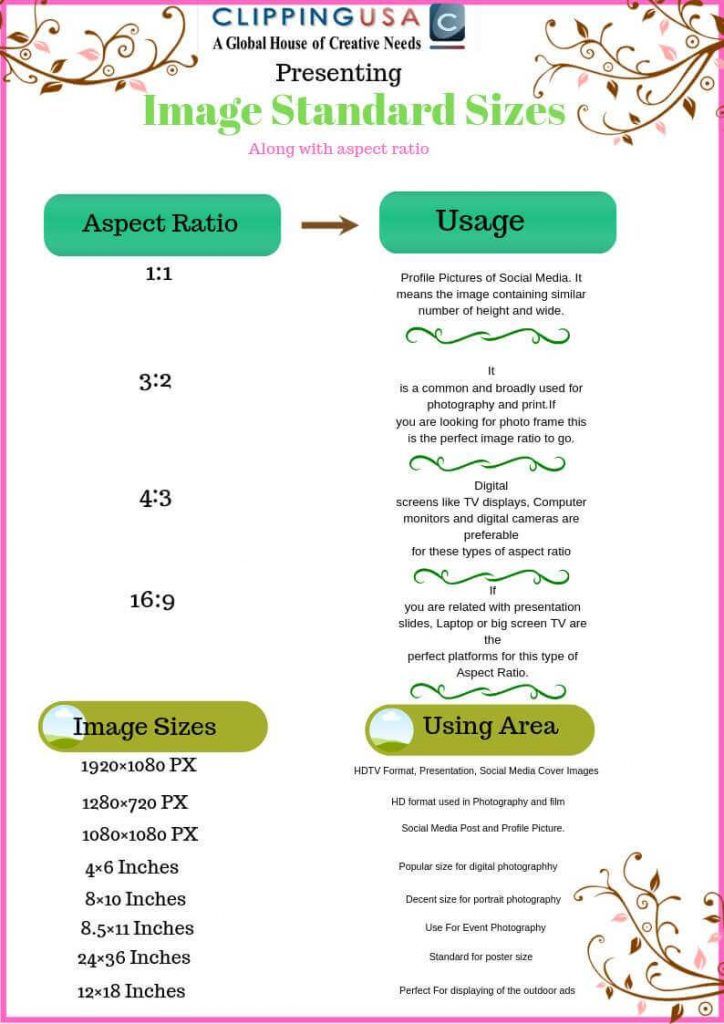 Aspect Ratio: 1:1
This type of aspect ratios is mainly popular for the profile picture of Facebook. It means the image containing similar number of height and wide.
Aspect Ratio: 3:2
It is a common and broadly used for photography and print. I think you have heard about 1080×720 Pixel or 6×4 Inches.That's the same aspect ratio that we are talking. If you are looking for photo frame this is the perfect image ratio to go.
Aspect Ratio: 4:3
Digital screens like TV displays, Computer monitors and digital cameras are preferable for these types of aspect ratio. Image size 1024×768 pixels are example of this aspect ratio. 8×6 inches is the popular size of this A.R.
Aspect Ratio: 16:9
If you are related with presentation slides, Laptop or big screen TV are the perfect platforms for this type of Aspect Ratio. It is replacing the older popular 4:3 aspect ratio. For an expanded rectangular shape 1920×1080 is using broadly.
The Process of Measuring Image Size
You have understood that Aspect ratio and image size is completely two different things. Image size is the actual extent of size of a picture. There are a few units to make the measurement. Basically, Pixel unit is used for the measurement of the soft copy of the image and Inches are used for the measurement of the hard copy of images.
Two images have same aspect ratio that doesn't mean that their image size will be same. For illustration, 1920 ×1080 and 1280×720 pixel has an aspect ratio of 16:9. But they are not in similar size
Common Standard Image Size:
1920×1080 PX: HDTV Format, Presentation, Social Media Cover Images
1280×720 PX: HD format used in Photography and film
1080×1080 PX: Social Media Post and Profile Picture.
Now let's have a look at the standard size of the Photography.
4×6 Inches: 4 by 6 inches is a popular size for digital photography. It is considered as the standard size of Photography.
8×10 Inches: This size is decent size for Portraits photography
8.5 ×11 Inches: Use for Event photography.
12×18 Inches:It is standard for Poster Sizes
24×36 Inches: Perfect for the displaying of the Outdoor Ads
We are just at the bottom end of the post. I hope from now on image size is not a matter of concern anymore. You will be able to present your image by maintaining the proper and accurate size along with the proper aspect ratio.
At this stage let's see some frequent question about Image Standard Sizes:
What are the standard photo sizes?
For printing, recommended sizes are 4×6, 5 ×7 and 8 × 10. If you want to make the photo print in large size then the recommended sizes are 16×20 and 18 × 24.
How many pixels are in a 4×6 photo? Is 4×6 a standard photo size?
Yes, it is a standard photo size. Typically, there are 540×360 pixels are available in this size of photo. To be more specific, 540 pix in the width and 360 Pix are available in the height.
Why would someone choose to print 5×7 photos over 4×6? What's the advantage?
Firstly, Iwant to inform you that the aspect ratio is same for the both scenarios.4×6 is a common standard size but 5×7 is a bit larger. That's the main advantage. You will get a bit larger view of the picture.
What is the size of a post card photo?
It doesn't have any specific answer because there are numerous sizes that are available for post card. Some common sizes are 4″ x 6″, 4.25″ x 6″, 5″ x 7″, 5.5″ x 8.5″ and 6″ x 9″
How do I make a photo size 4×6?
You can make a photo size 4 ×6 by using Cropping or Resize option. Set the width value 4 and the height 6 followed by setting the unit Inch.
Is one-inch photo size the same as 4*6 sizes?
No that's a myth. 4×6 means the image is 4 inch in the wide and 6 inch in the height.
What is the standard size of an A4 size photo?
The standard size for A4 size photo is 21.0 x 29.7cm. If you want to make the measurement in inch then 8.27 x 11.69 is the size.
What are standard photo sizes in inches?
Some common standard photo sizes for inches are 4×6 and 5 ×7. In recent times, 6″ x 8.5″ and 7″ x 9.5″are also used as standard Photo sizes.
Where on my iPhone can I find the size of a picture?
Open the picture and hit on the "I" option then you will be able see the size of the picture including aspect ratio and pixel.
What is a standard photo size UK?
6×4 inches, 7×5 inches, 8×6 inches are some common standard photo size in UK.
Is 4×6 or 5×7 more common?
Both of the sizes are common and standard. 4×6 is bit more familiar than 5×7 photo. But when you are looking for a larger photo then you should go for 5×7.
Cheers for reading.
standard photo print sizes
,
standard photo frame sizes
,
photo standard sizes
,
standard passport photo sizes
,
standard print photo sizes
,
standard photo sizes us
,
standard photo paper sizes
,
standard photo sizes pixels
,
standard photo album sizes
,
standard photo enlargement sizes
,
standard wallet photo sizes
,
standard photo sizes in pixels
,
standard photo enlargement sizes
,,,,,
standard photo book sizes
,
standard photo sizes chart
,
standard photo frame sizes cm
,
standard photo print sizes chart
,
standard photo matte sizes
,
standard photo print sizes us
,
standard photo print sizes costco
,
standard large photo sizes
,
standard sizes of photo frames
,
standard web photo sizes
,
standard square photo frame sizes
,
standard panoramic photo frame sizes
,
photo print standard sizes
,,,,,,
standard photo pixel sizes
,
standard photo frame sizes uk
,
kodak photo sizes standard
,
standard photo printing sizes
,
landscape photo sizes standard
,
standard photo canvas sizes
,
standard photo print sizes australia
,
standard large photo print sizes
,
walgreens standard photo sizes
,
standard panoramic photo sizes
,
print standard photo sizes
,
photo frame standard sizes